InviCode: Invisible 2D code in videos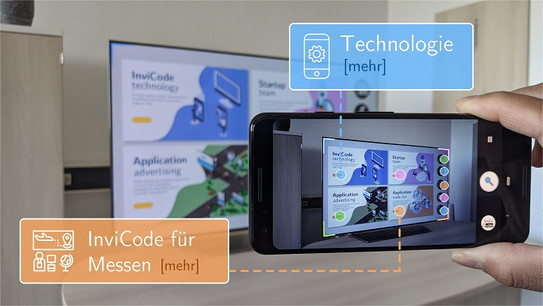 For events, trade fairs or digital outdoor advertising, new and innovative approaches of linking on-site presentation with digital content are always in demand. Up to now, QR codes, NFC or Bluetooth are available interfaces for this purpose. In the DaVid project, a novel technology was developed at the Communication Technology Institute, in which 2D color codes are invisibly superimposed on arbitrary images or videos. Using off-the-shelf cameras, the overlaid data can be recovered while maintaining the perceived image quality for the viewers.
In the project "InviCode: Invisible 2D code for the transmission of short messages", a system prototype with high application potential is now being developed on the basis of the patented technology. With a view to the intended application scenarios, the system is being tested under realistic transmission conditions and optimized with the aim of achieving robust functionality on a wide range of devices.
In the future, a Smartphone app will facilitate an intuitive access to a variety of digital content stored in the displayed images in real time with just one scan of the screen. For transmitter-side video processing, modulation software is being developed for systems with limited computing capacity, such as a single-board computer in an advertising stele.
Since July 2021, InviCode has been funded by the German Federal Ministry of Economic Affairs and Climate Action as part of the WIPANO funding program.